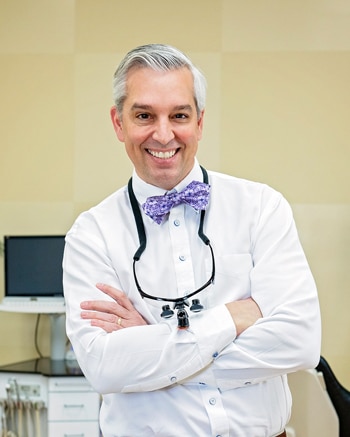 William "Bill" Layman, DMD, is passionate about working with patients to create a life-changing smile. He and the suortho team are just as passionate about delivering that care in the most efficient way possible for the patients we serve. We are humbled every day that patients place their trust in our team to accomplish their orthodontic goals. It is an honor that we do not take lightly.
Background, Education & Military Service
Raised in a small Virginia farm town, Dr. Bill worked during high school as a farmhand, loaded dog feed, mowed church lawns, and pumped gas. He used his wages to help pay for his braces — an experience that set him on the path to becoming an orthodontist.
After graduating from The Citadel with a Bachelor of Science in biology, cum laude, Dr. Bill served as a paratrooper with the Army's 82nd Airborne. While in dental school at the Medical University of South Carolina, he was elected and served four years as class president while earning his Doctorate of Dental Medicine.
As an orthodontic resident at Vanderbilt University, he was part of the cleft palate and cranio-facial anomalies team and received extensive training in the dental treatments of obstructive sleep apnea. Dr. Bill was also chosen by his classmates and faculty to serve as chief resident.
Dr. Bill has also recently completed his Masters of Business Administration at the Wharton School, University of Pennsylvania where he received the Ben Franklin award. The Ben Franklin award is voted on by one's peers as the student recognized for their leadership contributions to the class.
Professional Affiliations
American Dental Association
American Association of Orthodontists
American Board of Orthodontics
American College of Dentists
West Coast District Dental Association
Southern Association of Orthodontists
Florida Academy of Dental Practice Administration
Florida Dental Association
Florida Orthodontic Association
Upper Pinellas County Dental Association
Leadership Pinellas
Outside the Office
Dr. Bill has lived and worked in Clearwater since opening Straighten Up Orthodontics in 2005. His wife Andrea is a third-generation Floridian and a graduate of Clearwater High School. They have a son who is into being a high school boy, lifting weights, football and spending time with his friends.
Dr. Bill and his family enjoy traveling and exploring the beauty that Florida offers. Dr. Bill stays active by playing tennis, practicing yoga and hiking. Dr. Bill is also very proud of his participation in the Ironman 70.3 Cancun in which he qualified for and competed in the Ironman 70.3 World Championship.
He believes strongly that those who are blessed with the opportunity to give back should do so. Whether it be treasures or talents, giving back will repay you tenfold. He is a founding member of the Community Dental Clinic and serves as the clinical chair.
Dr. Bill has also been involved as president of our local Rotary club and currently serves as program chair for the Florida Academy of Dental Practice Administrators, product development advisor for a number of companies the 3D orthodontic ecosystem, Alumni students support for the Wharton School Executive MBA students.